November 2021
Nice Outfit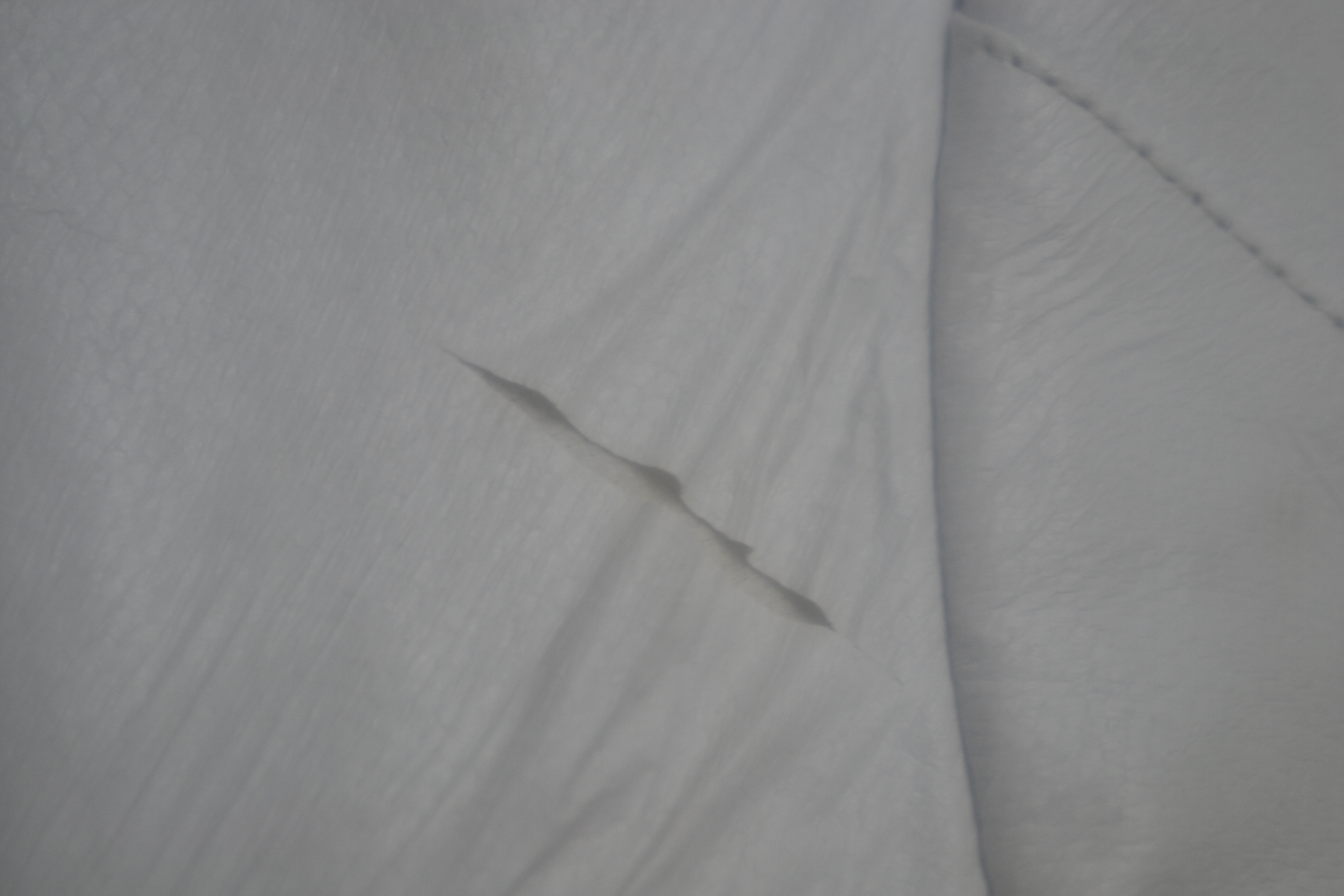 Parasite lost

'To deal with dirt first. In the course of any imposing of order, whether in the mind or in the external world, the attitude to rejected bits and pieces goes through two stages. First they are recognisably out of place, a threat to good order, and so are regarded as objectionable and vigorously brushed away. At this stage they have some identity: they can be seen to be unwanted bits of whatever it was they came from, hair or food or wrappings. This is the stage at which they are dangerous; their half identity still clings to them and the clarity of the scene in which they obtrude is impaired by their presence.'1



Recognisably out of place

I remember standing in front of a sickly pink Juicy Couture tracksuit on display at The Victoria and Albert Museum around 2005 — something about its preservation felt perverse. It seemed too new, too much a part of my own generation to be locked in a glass cabinet. It wasn't old enough to be cared for. It was rendered immobile. Passive. Dead. A rarefied and vaulted object of pop desire transferred from boutique window to museum cabinet. To be admired but not embodied.



Tasked with shaping a forthcoming legacy, the museum curator is thrown into a moral dilemma. In their acid-free paper parcels and temperature controlled chambers, garments are under incubation but for what? Marc Jacobs' fur and plaid coat for Louis Vuitton c. 2004, a leather and metal thong designed by Liz Lewitt for Religion in the mid 1990s, a pair of eighties hand-knitted red and grey acrylic leg warmers, box fresh Nike AirMax trainers, stubby art deco lipsticks and an ivory bangle from Chanel are all commercial products that 'gain a new form of authenticity, functioning mostly as historical documents,' 2 once they enter confinement. 'In general, they are now seen as unique pieces, are no longer meant to be used and are expected to last in good condition. In most cases, keeping and displaying the original is the focus of conservation theory and practice.'

Consider the polyurethane coated linen, leg-of-mutton sleeve jacket from Martin Margiela's spring/summer 1990 collection held at MoMu in Antwerp.3 It is starting to crack — a flayed remnant of an electric moment now asleep in an oxygen-free bag. The designer 'set a new paradigm for the fashion show as a public spectacle4 staged on a derelict playground lined with plastic fold-up tables and chairs on the outskirts of Paris in March 1989. Keen to disassociate himself from the rarefied excesses of the previous decade, Margiela instructed the models to 'walk like boys' across the uneven concrete floor, which they did to a choppy soundtrack of 1960s rock and obscure post-punk as the threat of rain dangled in the air. Groups of local children – some of whom had painted the show's invitations – sat on the front row, occasionally joining the models when the mood came over them.

Bill Cunningham took photographs of the mostly white and clear plastic garments hanging on rails in the makeshift backstage tent. They ran across a double page spread in the March 1990 issue of Details magazine along with blithe images of models wearing them on the runway. Today, the jacket with its burnished elongated buckle is a threat to good order — a victim of its own matter: 'and now he [Martin] says he doesn't want to show it anymore because it's not how it should be.' 5 In a world where images have replaced memories, Cunningham's pictures preserve Margiela's original intention. The rotting, actual jacket is a reminder of fashion's temporality, hidden away like Dorian Gray's shrouded portrait in the attic.





A threat to good order

Between 11 June and 17 August 1997, visitors to the Museum Boijmans Van Beuningen in Rotterdam peered through the windows and encountered 18 white garments that each had been treated with a different strain of bacteria, yeast and mould. La maison Martin Margiela : (9/4/1615) was Margiela's first solo exhibition, for which he collaborated with Dutch Microbiologist Dr. A.W.S.M van Egeraat, Professor at the Wageningen Agricultural University. 'Over the first five days of the exhibition these organisms develop on the clothes and, once their gestation period is complete, change the colour and aspect of the garments,' the accompanying catalogue to the show read. Waves of pink yeast, tiny spots of mint green mould and luscious grey spores rejuvenated the unbodied garments into cognizant ephemera. They united the truth of science and the fantasy of fashion: 'No effort had been made to simulate a human being, yet the mannequins evoked a ghostly presence: benign sentinels in their tattered, second-hand clothes, they brought the past into the present, just as the museum brings the outside into the interior.'6
Margiela's deconstructionist approach had become emblematic of his avant-gardism – with La maison Martin Margiela : (9/4/1615) he consciously transformed modern dress into historic relic.

Over the course of three years, the installation travelled from Rotterdam to Kyoto and then New York and concluded with the garments being tossed into an incinerator in a heroic act of self-censorship. Today the show exists only as low resolution images on Pinterest and Tumblr and in the rare white cotton lined handbooks published to accompany the exhibition. One is currently listed for sale as: 'Book: The white cover shows wear and discolouration, interior is very good.' The dirtied white cover — much like the spores of colour festooning the now vanished clothes — is proof of human contact. Proof that it happened.

The fashion illustrator Natasja Brack posted photos from the La maison Martin Margiela : (9/4/1615) catalogue on her blog in 2013, paired with pictures of clothes she had bought from Belgian designers as a student in the 1990s that had accidentally been ruined after a flood in her basement: 'Moist circles are now the indelible shadows on their souls'7 she writes. Margiela had actively exposed fashion as something constantly in decline, curating looks from his first 9 collections within a gallery setting, yet it is in Brack's out-of-focus photographs that we begin to understand the emotional patina of abandoned clothes. A rusty Ann Demeulemeester asymmetric strap top from around 1996 and a cotton blazer with satin smoking collar display the polish of mould; spread out on the floor, a damp 1998 woollen knit with red snakeskin sash from Jurgi Persoons is vacant. A camera held up to pile of forgotten, rotting clothes is witness to a kind of alchemy. 'To take a photograph is to participate in another person's (or thing's) mortality, vulnerability, mutability. Precisely by slicing out this moment and freezing it, all photographs testify to time's relentless melt,' 8 Susan Sontag wrote in 1977.

I am bemused by this insistence on wanting Margiela's s/s 1990 coat to look as fresh as it did the day it was first shown in 1989 when we have Bill Cunningham's photographs of it. The yellowing around its seams and the cracking at its shoulders are a part of its story. It is evidence of our impermanence.





Their half identity still clings

Museums focus on fleeting moments that remain as digital junk: blurry videos, out of focus amateur snaps, high definition scans of lavish photography-spreads from crumbling magazines. What we understand as fashion is dominated by the fashion image. It is left to the conservator to deal with the material frailty.

In the archives at MoMu, a pair of Walter Van Beirendonck latex gloves from 1997 are forever stuck to mannequin hands, too delicate to remove. A grey tricot dress from Margiela's autumn/winter 1997 collection has a plastic coating on top that's slowly flaking off. The Museum of London keeps a ladies rubber mac dating from 1885-95 in anoxic storage to stop it from disintegrating. A 1974 Mary Quant wet-look PVC raincoat and matching sou'wester are not disintegrating yet, 'but probably will.'9 Shiny, coated surfaces have grown in popularity since the 1960s because of their enormous possibilities, yet it is a material that has a life span of only five years. After that time, if it is unworn and undisturbed, it starts to become sticky or begins to flake. Older objects will turn white and lose their gloss — the object itself completely changes from its original form. It self-destructs.

Museums fixate on a material puritanism: 'We want to show how it was then,' Kim Verkens, head conservator at MoMu, told me of her role working with historic garments. 'We once had a 19th century corsage which shattered as soon as you punched your needle through it. It's an object that is lost. We try to preserve it but in the end it'll completely disintegrate. When it's lost I mean the material is dead. We cannot show it to the public anymore.'

It is rare that a piece that is not 'perfect' will be shown to the public and so photographs of damaged acquisitions remain hidden on internal servers for only researchers and academics to see. Lost. Images of decay are unsettling because they imply neglect. Brack's photographs of her sodden, mouldy clothes are memento mori; a photograph of Margiela's decaying jacket is an intense vanitas.

Online, a generation of fashion enthusiasts are demystifying the curator's cerebral gaze, interested less in perfection and more in what these clothes might do today. The Instagram account @shitpicturesofgreatclothes posts an image of a pair of Tom Ford-era Gucci diamanté thong strap trousers that have been clipped hastily to a plastic hanger. Next, a black dress from Comme des Garçons' s/s 1997 'lumps and bumps' collection hangs dispassionately from a curtain pole by a bedroom window; a reflective dress by Helmut Lang from 1995 is stretched over a white pillow. These square images are anti-curatorial convention. They celebrate clothes that are free from the margins of the museum.

1. Purity and Danger: An Analysis of Concepts of Pollution and Taboo, Mary Douglas, 1966.
2. What does the future hold for polyurethane fashion and design?, Susana Catarina Dias França de Sá, 2017.
3. See pictures by Frédéric Boutie, Fashion Collections Manager, MoMu.
4. Remembered: The Game-Changing Martin Margiela Show of 1989, Business of Fashion, https://www.businessoffashion.com/articles/fashion-week/remembered-the-game-changing-martin-margiela-show-of-1989.
5. Conversation with Kim Verkens, Head Conservator, MoMu.
6. The Golden Dustman: A critical evaluation of the work of Martin Margiela and a review of Martin Margiela Exhibition (9/4/1615), Fashion Theory, 2:1, 73-93, Caroline Evans, 1998.
7. https://natasjabrack.wordpress.com/tag/maison-martin-margiela/.
8. On Photography, Susan Sontag, 1977.
9. Email from Beatrice Behlen, Senior Curator, Fashion & Decorative Arts, Museum of London.